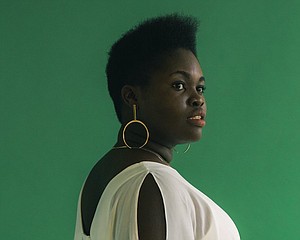 La cantautora cubana Daymé Arocena se estará presentando este viernes 4 de agosto a las 8pm en AMP by Strathmore. La cubana es descrita por NPR como una "combinación mágica de la Reina de la música latina, Celia Cruz con la Reina del Soul, Aretha Franklin". La cantautora es reconocida por su voz estelar y por liderar una ola de artistas cubanos quienes están reinterpretando sus raíces africanas a través del jazz, soul y funk. En el escenario estarán Daymé Arocena (vocalista), Jorge Luis Lagarza (piano), Rafael Aldama (bajo), and Raul Herrera (percusión).
Los boletos cuestan a partir de $25
AMP es ofrece música en vivo con comida estilo gourmet. Localizado en el Distrito North Bethesda en Montgomery County, AMP, manejada por Strathmore se ha convertido en el centro del entretenimiento en vivo en este vecindario.
Aquí hay más información [en inglés] sobre el evento:
Friday, August 4, 2017
8 p.m.
Tickets $25-$35
Cuban singer and composer Daymé Arocena is a musician of exceptional warmth and powerful presence. Combining contemporary Cuban music and Santerian chants with fluid jazz styling, Daymé synthesizes elements of her homeland and world music into an enrapturing musical fusion. Her live performances are equally captivating, immersing fragments of rumba rhythms and outbursts of scatting into her songs, and with the ability to "whip the audience into a call-and-response chant that proves her myriad talents are always in service of a communal experience" (The Los Angeles Times).
Says NPR, "There is something going on in Cuba that is, quite simply, raising the bar on music of all kinds. An incredibly talented and visionary group of Cuban millennials are reimagining their African roots through a lens that filters jazz, soul and funk. And Daymé Arocena is literally giving voice to this movement."
Performance features Daymé Arocena (vocals), Jorge Luis Lagarza (piano), Rafael Aldama (bass), and Raul Herrera (drums).