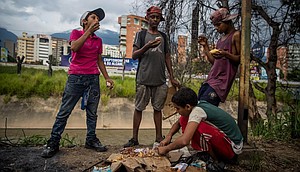 There is a bolero that I love and it is called "You do not know anything about life". It continues: "you are like a ship adrift that goes through the world without reason". Today I dedicate it with passion to you, to that Left that ignores the real tragedy of Latin America, whose hatred towards Donald Trump has led you to forget your principles and to defend the leftist dictators of the region.
I have always voted for the Democratic candidates and I support their struggle on progressive issues, however, you are not up to our current circumstances. These demand a struggle for freedom against oppression instead of the same of fashion debate between left and right. It is a hemispheric tragedy, that your hatred for Trump led you to defend, perhaps unintentionally, dictators such as Nicolás Maduro, Daniel Ortega, Raúl Castro and Díaz Canel. Shame on you and your party. That's why I hope to make you reflect.
Yes I know. You fight for a system in which children do not suffer from hunger in the United States and I agree. So why do you ask that the international community and your country, the United States, not intervene for humanitarian reasons in Venezuela? Why do you spend millions of dollars on your "Hands Off Venezuela" campaign?
Do you know who has "Hands IN Venezuela"? the misery, the hunger, the desperation, the oppression, the death, the lack of freedom, the Cuban military, drug trafficking, Colombian guerrilla movements and Hezbollah. It is not an invention of the "Right", it is a fact.
Do you know that according to official figures between 2015 and 2016, 11,400 children died before reaching their first year and there was an increase of 65% in women who lost their lives during their pregnancy and delivery?
Do you know that according to the NGO Caritas in 2018, 48% of pregnant women in the lower classes in Venezuela had "severe malnutrition"?
Do you know that the shortage of medicines is estimated at 90%?
Do you know that 87% of the 79,000 infected with HIV do not receive treatment despite having registered with the government to receive it?
Do you know that according to the NGO Sentinel Monitoring System of Child Malnutrition since August 2017, 85% of Venezuelan families are turning to sources of access to food such as begging and garbage containers?
Do you know that 64% of Venezuelans have lost more than 24 pounds due to lack of food?
Do you know that Venezuela has been without electricity for a week due to lack of maintenance to hydroelectric and transmission sources despite having spent, or rather, stolen 100 billion dollars for that purpose?
Do you know that patients die every day because they do not have dialysis services? Do you know that 5 million Venezuelans, more than 10% of the country have fled death and hunger to other countries in order to work and send their folks some dollars?
Do you know that this happens in a country that was once the richest in Latin America and has the largest oil reserves in the world?
Do you know that there are more than 500 political prisoners in Venezuela and that since 2016 more than 15 thousand people have been detained "and many tortured and murdered" for thinking differently?
Do you know that there are paramilitary forces paid for by the Maduro government, the FAES that enter the most humbleneighborhoods every night and randomly kill inhabitants with shots to the head and have executed more than 3 thousand people?
Do you know that 33% of children in the poorest sectors have suffered from levels of malnutrition that are already impacting their growth and development?
How can you possibly know about all this? Go live in Venezuela, Cuba or Nicaragua so that you learn to understand that lack of freedom leads to human misery. Go live for a few months in the same conditions of anguish, fear and desolation. Go and learn from the life of our people, because the truth, as the bolero says, is that "you do not know anything" but, you can learn.