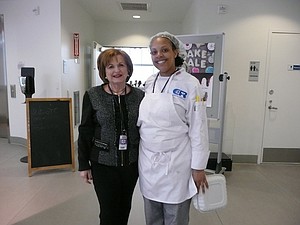 //Lea este articulo en español//
When the well-being of her school was at stake, Sonia Gutiérrez would never take no for an answer. Every step of the way was a fight, at the end she won and the results are there for all to see: more than 70,000 adult learners have been educated at the Carlos Rosario International Charter School over the years. Many of them became nurses, chefs, entrepreneurs or computer technicians. Others achieved their dream of going to prestigious universities.
For her, they are her birds who learned how to fly. They are the reason for her pride. When sometimes they returned to their nest to thank her for all she has done, she knew that it was worth all of the hard work and effort in order to help the Hispanic community with the priceless right: education for those less financially fortunate.
She listened to the gospel of Carlos Rosario "el Viejo", as she liked to call him. The '70s may have been many things, but boring sure wasn't one of them for the Boricua immigrant and his small group of Hispanics who were demanding to belong to the city, as it was the case of other minorities. "Hey girl, I need you to help me as an adviser" are the words she still remembers. She was in her early 20's, married and with a son in her arms, but she couldn't tell him no, because Rosario was like a gravity force. Now, at the end of her social and political activism, she only manages to say: "That was the best choice of my life."
Step by step and brick by brick, she and her team went about achieving their goals. Initially, in a filthy basement in Chinatown, here in D.C., 100 adults learned English as they sought to solve their problems, such as poverty, unemployment, immigration or risk of eviction. She always had a sympathetic ear and was accommodating, but it wasn't enough. For her, it was a breaking point, and she made the decision to go back to school to study a Master's Degree in Adult Education at the University of the District of Columbia. She had already studied accounting in Puerto Rico.
Nearly half of century later, Carlos Rosario International Charter School has its own campuses and the Ana G. Méndez University, established to educate 2,500 students each year, in a wide range of professions and skills. The School got its start in the Program of English Instruction for Latin Americans, under the umbrella of D.C. Public Schools system until the District's financial crisis in the early '90s forced its closure. Gutiérrez would let nothing get in her way. She stood up for what she believed in and faced each obstacle head on. Her students, her team, some politicians and the Hispanic leaders lent her a hand in the most critical moments.
She seemed to take literally the Chinese philosopher Confucius' teaching: "Each one of us is aimed to save the world." Perhaps, that is why she left her first and second husbands for the School. "I fell in love with the project. The happiest days of my life have been to see my students dressed in their white chefs and nurses uniforms, and to be certain all of them have unlimited chances for employment".
Gutiérrez' tireless effort to create a successful education model for adults left a tangible, lasting legacy for the Hispanic Community and for the city. For all of this, El Tiempo Latino will pay her tribute with our "Leyenda" award for her life, infused with her passion for education in order to remedy the vulnerable situation of minorities. Certainly, 47 years ago it was only natural to work for the Latino community, but as time went on the student body became more diversified.
"She deserves this recognition because thousands of immigrants make the difference in their lives thanks to this great woman. She was a leader and her legacy goes beyond the borders. It was an honor to work for her," was the amused reaction of Aracely Watts, VP of the Carlos Rosario School at the Ana G. Méndez University campus, when she learned about Gutiérrez last tribute.

Being 80 years old, Gutiérrez is an open book full of memories and dreams. Carlos Rosario International Charter School was her big baby, but not her "swan song". Puerto Rico and Arizona are waiting for her wise advice to create similar systems like the one she led for almost 50 years. Her sons, her daughter, and her grandchildren are waiting for their grandma as well. "Gee… I am old now, I underwent several surgeries. My life was this school and 'you know what?' It was my pleasure."